Bali Surf Report
Bali Surf Spots
Surf Spots in Indonesia
Article
Tide Chart
Other Links
Home

Enjoy With Us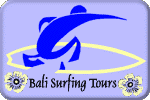 Check out our great deals for surfing Indonesia


Surf's up on the Island of the God's!

Regardless whether you're an English, Australian or Japanese surfer,
you will feel the mystique of surfing on Bali's beaches ...
White sands, black sands, awesome scenery , sketchy paddle out zones,
traditional fisherman, all add to the flavour and unique taste of surfing on Bali.

In this site we're trying to give you the best we know about surfing on
Bali. Our sources are local & non-local surfers, surf shops,
magazines, information from secret sources and our own experiences.

Lingo surfing <Click here for surfing terms>

Can't Speak Indonesian Language?? Click here to check for an Indo word and how to pronounce it!

See below for some useful Surfing Guide Books!



Surfing Indonesia
A Search for the World's Most Perfect Waves by Leonard and Lorca Lueras
Photos by Jason Childs


Indo Surf & Lingo
Surfing guide book to Indonesia & Bali


Surfing - Fundamentals
Shortboard, Longboard, Bodyboard, Kneeboard, wave-ski - HOW TO RIDE
by Nat Young