The swell is approx. 2-3 feet and unfortunately the winds have not yet swung for the Kuta side of Bali however this is allowing waves to be found in places such as Sanur , Nusa Dua and a few other locations that are proving to be of interest for the travelling surfer.
Recent problems in neighbouring islands have resulted in again uncertainity on Bali from travellers however one can be reassurred that the Island of the Gods is awaiting your arrival with open arms and pleasant smiles.
We are always open to input for ideas to improve this service so please email us and let us know what you need to know and we will get it up here for you.
Hope you score some nice ones today .
Scroll to the bottom of this page to view numerous links for forecasting swell .
Click here for further details on weather on Bali and surrounding areas or here for regular update and current weather conditions.


Sunny day, Temp:25-31deg. Celcius, Wind: South/West (2kph or 6kph), Rel. Humidity: 90%
BEACH
Medewi
Balian
Canggu
Legian
Sanur
Kuta
Nusa Dua
Tuban
Uluwatu
ISLAND
Bali
Bali
Bali
Bali
Bali
Bali
Bali
Bali
Bali
WIND
Side
Side
Side
On
Off
On
Side
On
On
HEIGHT(ft)
Wave Height Model
FNMOC Public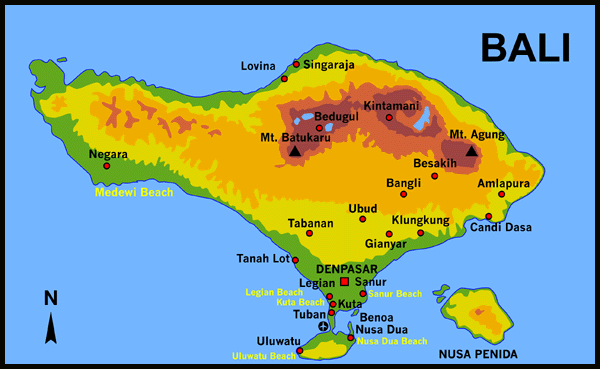 CLICK HERE for more Tide Chart info or Here to see more surf report links
US Navy Wave Model
http://www.fnoc.navy.mil/wam/gifs/indo_swht_024.gif 24 hours forecast
http://www.fnoc.navy.mil/wam/gifs/indo_swht_048.gif 48 hours forecast
http://www.fnoc.navy.mil/wam/gifs/indo_swht_072.gif 72 hours forecast
http://www.fnoc.navy.mil/wam/gifs/indo_swht_096.gif 96 hours forecast
http://www.fnoc.navy.mil/wam/gifs/indo_swht_120.gif 120hours forecast
NOAA Sea Level Pressure/Indian Ocean
http://weather.noaa.gov/pub/fax/QWQA00.TIF
Wave height forecast models for the Indian Ocean
http://facs.scripps.edu/surf/images/gblind24.gif 24 hours forecast
http://facs.scripps.edu/surf/images/gblind48.gif 48 hours forecast
http://facs.scripps.edu/surf/images/gblind72.gif 72 hours forecast
http://facs.scripps.edu/surf/inda.html 48 hours animation loop
Satellite images for the Indian Ocean and W.Australia area
ftp://ftp.jcu.edu.au/JCUMetSat/sector-c.gif
ftp://ftp.jcu.edu.au/JCUMetSat/globehlast.gif
ftp://ftp.jcu.edu.au/JCUMetSat/aushlast.gif