A LITTLE ABOUT SURFING ON BALI
Waves on Bali were already being surfed by both foreign and local surfer as early as the late 1930s. So it's not true, according to contemporary surfing magazine lore, the island of Bali was first discovered as a viable surfing destination by a group of traveling Australian surfers. Eventhough, in 1967, the surf explorers from Australia first begin arriving on the island of Bali bearing serious waveriding equipment ....


SURF SPOTS IN BALI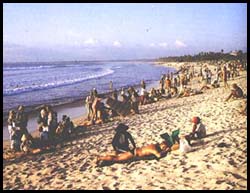 Kuta
Kuta has long been known for its great breaks, but, whether you like it or not, it's now over-crowded by tourists.
Click here for more on early surfing on Bali.
Canggu
Sits on a curving shoreline, about 30 minute drive along the Bali strait from Kuta. It has lava rocks and a varied beach break set up consisting of a long lefthander and a shorter right. The left can line up and now-and-then peel into a tube, but the right is primarily a drop and a short wall that leads to undistinguished mush.
Balian & Madewi
The word Balian means 'sacred' or refers to 'trance healer'. It's about one and a half hours away from Kuta. Balian's lefts are usually longer and better shaped than its right. Madewi is less consistent than Balian. Best surfing is from mid to high tide. It's not so frequent visited by tourists!
Uluwatu
Uluwatu's left point break is pretty famous. Unlike Canggu, its lava rock is very sharp. Low tide at Uluwatu causes The Peak to close out.
Nusa Dua
Studded with five-star resort hotels. You can find Bali's premier right reef breaks at the south end of the Nusa Dua Beach Resort complex.
Be really aware of its sea-urchin!
Sanur
Sanur and its adjoining reefs are best surfed during the wet season (November to April), because west winds here blow offshore, while dry month trades blow dead onshore.