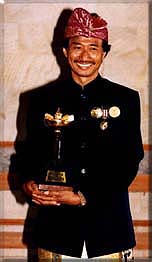 Pande Wayan Suteja Neka, better known as Suteja Neka was born in 1939 in the Vilaage of Peliatan in Ubud, Gianyar, south Bali. A former school teacher, he recognized the importance of education in maintaining culture. As a result, he established the NEKA Museum in 1982 in Ubud, the first privately owned institution recognized by the Indonesian goverment. Neka is director of the Yayasan Dharma Seni art foundation which manages the Neka Museum.

Suteja Neka is an art connoisseur. His father, I Wayan Neka, received recognation as the best carver in the province of Bali in 1960. He was the first Balinese to carve a three-metre tall statue of the Garuda bird for the Indonesia Pavillion at the New York world Fair in the United States of America in 1964, which was followed by another one for the same purpose at Expo '70 held in Osaka, Japan.

Suteja Neka begin collecting paintings of high quality due to his close friendship with Dutch artist Rudolf Bonnet and Arie Smit. In 1975 Suteja Neka and Bonnet travelled to Europe to view museum and galleries. Neka's aim to established a fine arts museum in Bali was reinforced by this journey. After years of planning, the Neka Museum officially was opened by then Indonesian Minister of Education and Culture, Dr Daoed Joesoef, on the 7th of July in 1982.