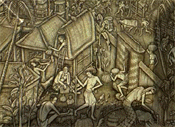 Don't miss the opportunity to see the real Bali. Walk along old villages, ancient temples and beautiful rice paddies. Gain some cultural understanding on how the Balinese live their daily life, unchanged for hundreds of years.
Journey through deep jungle gorges and past majestic waterfalls on the side of Ayung River or take a jungle trek through the nearby Bali Barat National Park, province of rare monkeys and serpent eagles or cycle down Mount Batur past beautiful rice terraces as you glide through the island's foothills.
Or starting from Pesaben Village, you will see the real and the hidden world of Bali's. Through peaceful traditional house & stunning village temple, you will also discovery rice terrace and famous Balinese fruit "salak" plantation.
Stop at waterfall to enjoy coconut fresh from the free. Surrounded with the wildlife, terraced rice fields and support the simple culture and everyday life on Bali.
Tips for trekking
bring a camera or video camera
bring change clothes & towel
wear a comfortable walking shoes
bring a back pack, drink & lunch or snacks for supplies
using local villager for your guide