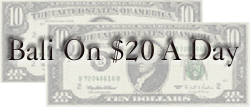 TWO DAYS , TWO ISLANDS , TWENTY DOLLARS a day
Depart the nightlife , markets and tourist centre of Kuta on your way to tranquility , beauty and relaxation on the sleepy little Island of Nusa Lembongan .
Leaving Kuta make your way to Sanur Harbour where you are able to purchase your public boat ticket across some of the deepest waters within Indonesia.
The journey by 'Public Boat' varies in time due to the weather and sea conditions , however 1 - 1 1/2 hours will see you at your newly found Island Paradise.
As you near the white sandy beaches of 'Jungut Batu' you will be amazed at the transparent waters and palm lined coves that dominate this side of the Island.
Once you step from your boat you willl greeted by locals welcoming you to Nusa Lembongan and inviting you to stay an evening at their bungalows .
Acccommodation standards on the Island vary greatly as do prices so it is advisable to inspect and bargain before confirming .
Once you arrive on Nusa Lembongan you are required to stay at least one evening as the only means of access to the Island and return to Sanur Harbour is by way of public boat which leaves each day from the beach at 8:00am in the morning.
Activities on the Island fulfill tastes for all people with surfing being possibly the major attraction for travellers due to three surf spots located immediately within viewing distance from your accommodation .
Many diving enthusiasts are also attracted to the Island as migrating sun fish some of which grow to weigh 3000kg pass by .
Other attractions include snorkelling , fishing , pushbike rides , jungle walks , and relaxing while viewing the most beautiful sunsets across 'Lombok Strait' back to Bali.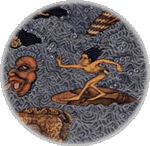 Transport from :
KUTA - SANUR HARBOUR rp10.000 / person

Public Boat Trip :
SANUR HARBOUR - NUSA LEMBONGAN rp50.000(return) / person

Accommodation :
NUSA LEMBONGAN rp35.000
CyberSurf Bali, E-mail:admin@balix.com