FOREIGN ARTIST IN BALI
1904 to 1967
---
Few western artists were much interested with the exotic countries of the East and their strange costumes and habits before the end of the 19th century. The general opinion was that the sharp contrasts of tropical light were unsuitable for the painterly arts. After Gauguin and the ascendance of modern art movement all this changed. One can muse that if Gauguin, who used many compositions taken from then recently published photos of the relief's of Borobudur, had known of Bali is yet pristine culture, he would have come here instead of Tahiti whose culture had virtually been destroyed by the time of his arrival at the end of the 19th century.


Nieuwenkamp Drawing of:
Goa Gadjah
Medieval Bali and her exotic kingdoms, however, dreamed on unknown to the world-awaiting another generation of foreign artists to discover her beauties. Quite a few of them were inspired by Gauguin and traveled in his footsteps, first to Tahiti before fate led them to Bali. By the 1930 '5, Bali was the new South Seas Paradise on Earth for an eager western public, an image created for a large part by the artists named here. Since the turn of the century scores of foreign painters have visited or lived in Bali. Some were good, some were great and most have been forgotten. Here is a more or less chronological list of the more notable among them, ordered according to the date of their first arrival on the island of the Gods.
1904 -W.O.J. Nieuwenkamp:
The first artist to visit Bali. Born in Amsterdam in 1876, Nieuwenkamp's nickname was the "Wanderer". He came not only to make his own art but to learn Balinese traditional painting. A multi-faceted autodidact, W.O.J. was more a graphic artist than a painter. He returned to Bali many times over the years and authored the most important early book on the island, Bali en Lombok (1906-1910),which includes pioneering ethnographic and archaeological studies. Working primarily in ink, his drawings are executed in rich sepia tones. The influence of Art Nouveau on his work is clear though he did not strictly belong to that movement. His large body of work on Bali and Indonesia, which includes nearly one thousand delightful drawings and paintings, is virtually unknown. He played a critical role in creating the myth of Bali, most importantly through his support of the German doctor and amateur photographer, Gregor Krauser. Together they held the first exhibition of Balinese Art in Amsterdam in 1918 with Krauser' 5 photos and Nieuwenkamp's drawings. It is Krauser's later book which brought many of the artists mentioned in this article to Bali.
1915-C. L. Dake:
A Dutch man born in Belgium in 1886. His father was an noted painter and taught at the Amsterdam Art Academy. His students included several painters who would later work in the Dutch East Indies. Dake was an acclaimed member of the Impressionistic Laren School, when the desire for adventure brought him to the East where he settled permanently. He was one of the most successful painters of the impressionistic "Beautiful Indies School" of painting which dominated the Dutch East Indies during the pre-WW II period. This style was later condemned by the first native Indonesian modernists who rejected it in favor of a rawer expressionism reflecting their revolutionary spirit and concern with social injustice. As the name of the group indicates, his paintings seek to capture the beauty and mystery of the Orient. While Dake is clearly an impressionist, we can see in his work the influence of Van Gogh's landscapes. His favorite Balinese subject was temple gates with wonderfully twisted frangipani trees. He was interned by the Japanese after their invasion and died in Batavia.
1920- P.AJ. Mooijen: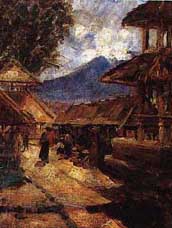 Mooijen was a multi-talented architect who designed the much praised Netherlands Indies Pavilion for the 1931 Paris Colonal Exposition. He also accompanied the first Balinese dance troupe to visit Europe who performed there to sensational reviews. A talented young protege' of the renown Dutch architect Berlage, he and a new generation of young architects changed the face of Dutch colonial architecture at the beginning of this century. He was also an avid collector of Balinese art and author. His book, Bali Kunst (Bali Art), is still the bestbook on Balinese Architecture (watch out for cheap plagiarized English versions). If this were not enough he was one of the main participants in the founding of the Bali Museum in Denpasar, restorer of Besakih Temple after the great earthquake of 1917, an active member of the Batavian Kunstkring (Jakarta Art Circle), which played a seminal role in Indonesian painting history, and last but not least a talented painter.
1921-Willem Dooijewaard: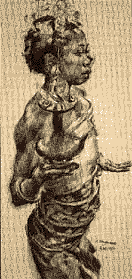 Dooijewaard, another Dutch man, was a great adventurer who traveled to Japan (where he often painted Geishas) and crossed the Gobi desert and Tibetan highlands on horseback and foot when it was truly frightening. He arrived in Bali in the early 1920's, settled for a while and returned often before Indonesian Independence. His modern figurative paintings of dancers are notable for their strong lines and exotic subjects. He was unwilling to sweeten the power of his vision. The resulting muscular Legong dancers and figures seem almost agonized, especially when compared to the more refined aesthetics of Hofker and Bonnet, whom he knew well. traÅ_1922-Roland Strasser: Roland Strasser, was an Austrian painter, and a good friend of Dooijewaard with whom he shared a style so similar that only a trained eye can discern the difference. According to some, Strasser's colors are brighter. Both men had strong influence upon each other not only via the painterly arts both were ardent adveturers, who made several breathtaking journeys through central Asia together. It has been suggested by several knowledge- able sources that, despite both men having been married, they shared more than a common artistic vision. For years, Strasser, had his studio in Kintamani just above Lake Batur. He so disliked visitors that he built a secret door in the back, through which he could escape, when not in the mood to meet with tourists, who even in those days were in search of artists.
1922- John Sten:
A Swedish painter from humble beginnings. Sten moved from Sweden to Paris at the end of the 19th century were he was influenced by the Pont Aven group, Cubism and Rondism. In 1922 he received a grant to travel to the South Seas and ended up in Bali where he rented a house in Karangasem, where he died in 1923.
1927-Walter Spies:
In almost everybody's opinion, Walter Spies was the greatest and certainly the most flamboyant painter to live in Bali, where his name has become a legend. Born in Russia to the parents of German diplomats, Spies was both a brilliant artist and musician. At an early age he was thrown into the creative maelstrom of the pre- second world war German avant garde movement. Lover of the great German director, Fritz Murnau, Spies was in close contact with Otto Dix and Oskar Kokoschka, both who influenced his painting. In a letter to his father 1919 he writes that he wishes to free himself of indoctrination and prejudices about taste and beauty and paint freely like a child with the skill of Chagall and Klee. Bali was to give him the freedom to realize his wish. The young, handsome Spies came to Indonesia in 1923 at 26 years of age, in part to flee the clasp of the older and very possessive Murnau. He finally settled in Bali in 1927 where he created his best canvases during the 14 years he spent on the island. Often called a surrealist for the dream like quality of his paintings, they combine a rich and fluid imagination mingled with Balinese scenes. While a great painter, his production was limited as he was always busy with countless other projects ranging from films, transcribing gamelan music, collecting insects, supporting the local arts and co-authoring books on dance and drama. Persecuted as a homo- sexual, his tragic death has only added to his romantic myth. There is one painting attributed to Spies on the island at the Agung Rai Gallery. One of his best, from the collection of the Dutch heiress, Marianne van Wessum, just sold in an auction in the Hague for over $ 500,000.
1928-Rudolf Bonnet:
The son of an Amsterdam baker, Rudolf had to fight hard to escape his petty beurgeois background and become an artist. His lust to live the artist's life brought him to Italy early where he was strongly influenced by Renaissance drawings and met with Nieuwenkamp who had a villa near Florence. Nieuwenkamp convinced Bonnet to travel to Bali. Bonnet's drawings and painting are always figurative and often elongated showing strong classical influence and his desire to express "beauty" in his art. With Spies he founded the Balinese artists union Pitamaha.. Often maligned as a stiff, colorless man, Bonnet's dedication to the Balinese and their art has no peer -the existence of the Pun Lukisan, the only museum in Ubud which is not a tribute to some wealthy art dealer's ego, owes its existence primarily to his tireless energy (he also donated the best pieces in the collection). Where Spies was flamboyant, Bonnet was a nuts and bolts man who made sure the plans worked. They represented the two polarities of the Bali expat gay life style of the era. Bonnet was forced off the island in 1957 after refusing to sell a certain painting to then President Soekarno. He returned some 15 years later as an old man, often intolerant of the new generation of expatriates who thought they knew better. His ashes were cast into the sea with those of his close friend, Cokorda Agung Sukawati of Ubud in 1978. Bonnet drawings are to be found at both the Neka and Agung Rai museums.
1930-Miguel Covarrubias:
The Mexican, Miguel Covarrubias and his very beautiful wife, Rose, who drove several noted expatriates of the time to near madness, arrived in Bali in 1930 for the first time for a short visit after seeing the photo book of Gregor Krauser. Born in the Bohemian section of Mexico City, Covarrubias had dropped out of high school after accidentally cracking the skull of a teacher in a fit of anger. In New York his talent quickly propelled him to become one of the stars of the of the social scene there and friend to the rich and famous. Covarrubias was a good friend of the most important Mexican painter of this century, Diego Riviera who was married to the now much acclaimed Frida Kahlo. Both were strongly influenced by the resurgence of interest in pre- Columbian and folk art which animated the Mexican art scene before the war. Returning to Bali on a grant from the Guggenheim Foundation in 1933, Covarrubias worked in Bali several years putting together his much acclaimed and still the best general book on Bali, The Island of Bali, first printed in 1937. The book was a best seller causing a fit of Baliomania in New York and elsewhere for years. Much influenced by the ancient cultures and spirit of his own nation, one could almost say that it required a man from a non-European consciousness to realise this book and the beautiful draw- ings and aquarels that he made to illustrate it. While good friends with Walter Spies, Covarubbias, like many others at the time, preferred to stay in the much more urbane and wealthy region of Denpasar rather than Ubud, which was considered more of a impoverished backwater than a cultural capital. Covarrubia's Balinese oeuvre is unique and greatly indebted to his Mexican roots, Riviera and the graphic and illustrative arts of his %ä_ _era. Many would call him more of an illustrator than painter for he worked for many magazines and to this day is renown for his Art Deco illustrations for the covers of Vanity Fair. 1931-Isaac Israels: Israels was the son of a famous Dutch painter born in 1885 and perhaps the greatest Dutch painter of the second half of the 19th century after Vincent Van Gogh, whose famous Sunflowers painting once decorated his studio in the Hague. Israels ,along with Witsen and Breitner, was the foremost figure in the late Dutch Impressionist movement also called the School of the Hague. Long fascinated by exotic subjects he had painted Javanese dancers, musicians and princes living and performing in Holland and Paris already in the 19th century. Israels traveled the world extensively and In 1931 he visited the Dutch East Indies and Bali with the famous Dutch painters, Wilsen (after whom Hofker was named) and Veth. For years collectors in Jakarta avoided him because they believed he came from a nation with which Indonesia does not recognise.
1935-Adrien-Jean Le Mayeur de Merpres:
An eccentric member of the Belgium royal family born in Brussels in 1880, Le Mayeur rejected his heritage and sought to follow in the footsteps of the first white primitive, Gauguin, by sailing off to Tahiti and French Polynesia to become a painter. These places were already in decline in Gauguin's time and sore ly disappointed Le Mayeur. He ended up in Bali in the 1930's which he found much more inspir- ing. His muse was his beautiful wife, the famous Legong dancer, Ni Pollok, whom he married when he was well into his fifties. Together they settled in a wonderful home on Sanur beach which is now a colourful but dilapidated museum much in need of conservation (funds have been granted by Belgium for this purpose but they seem not yet to have reached Bali). During the 1930's numerous tourists, just off the round the world cruise boats which docked in Bali every two weeks, would visit to be served drinks and snacks by his gracious topless wife and her pretty servants. This so galled the head of the Colonial government towards the end of the decade that he sent a warning to him that this immoral behavior must stop. Le Mayeur wrote to his cousin the king of Belgium, who in turned wrote to Queen Wilhelmina of Holland, who in turn wrote to the Governor- General of the Dutch Fast Indies, who in turn told the puiitanical governor of Bali to shut up. Le Mayeur's style is impressionistic, using short strong brush strokes of rather thick paint and palate of rich colors (liberated by his contact with Theo Meier?). This combination results with an agitated sense of movement in a sharp but harmonious combination with an inevitably idyllic scene. These usually include one or several topless portraits of Ni Pollak in dance or reflective poses against a sunny garden background with twisted frangipani trees and fallen flowers -true visions of paradise . His canvases presently fetch around $.150,000 a piece. Despite theft and conservation problems several of his best canvases are still at his house now museum in Sanur which is well worth a visit.
1936-Theo Mejer:
Born in Bale, Switzerland in 1908, the year of the last Puputan in Bali, Meier studied at the Berlin Academy where his admiration for Emil Nolde, a painter who sought new inspiration by traveling like Gauguin to Polynesia, brought him trouble with his disapproving professors. After Berlin he moved to Dresden, where like Spies he studied shortly with Otto Dix. Despite his admiration for both of these artists, he yearned for something else. Returning to Bale his future was revealed to him while attending an exhibition of Gauguin's work there. He left for Tahiti in 1932. Like Le Mayeur he failed to achieve his south seas dream until he arrived in Bali in 1936. Meier had a secession of Balinese wives and became very involved with mysticism and the Balinese way of life. He was also a fantastic cook specialising in grub soup. First settling in Sanur he later renovated Spies's house in Iseh in east Bali until he was imprisoned by the Japanese. His paintings with broad planes of strong color clearly show their debt to Gauguin both conceptually and visually. Many paintings are allegorical and deal with mystic subjects. He was also a talented portraitist for whom the great composer Stravinsky once posed. After Independence he settled in northern Thailand where his house is now a museum. He still made frequent visits to Bali which remained central to his work.. His paintings can be seen in both the Neka and Agung Rai museums.
1938-Willem and Maria Hofker:
Hofker's father was a good friend of Isaac Israels and Willem Witsen after whom his son was named. After seven years in the Amsterdam Art Academy, Hofker set up his own studio, recognised as one of the most talented young Dutch artists of the era. Maria was the daughter of the noted flower painter Rueter. By good chance Hofker, who was a renown paint portraitist, was commissioned by the KPM, to a portrait of the Queen of Holland for their headquarters in Batavia for the 50th anniversary of her ascendance to the throne in 1938. The young artist and his wife delivered the painting in person. After a short trip through Java illness made them decide to head straight to Bali which was already recognised as an artist Mecca. They settled outside Denpasar before moving to Ubud to be closer to Rudolf Bonnet, who was to become Hofker's closest friend. Hofker was fascinated above all Aythings by the sensuous beauty of Balinese women. Aided by his thorough academic training he executed numerous drawings and canvases using all types of Balinese women (and men) often against the background of temple gates (These compositions are still imitated to this day). His absolute mastery of anatomy and perspective resulted in the ultimate and still much copied romantic image of the pristine Balinese beauty. It should be noted that, despite a tendency to control poses and to correct details which he found unaesthetic, Hofker did not consider himself a romantic but a realist. Exhibiting frequently throughout Indonesia, Hofker was very successful. Even Bonnet, who rarely made portraits of women (this is understandable as he was gay) took a lesson from his close friend and added them to his oeuvre. Maria was also a talented artist who created a wonderful journal with small water color sketches very similar to Frida Holleman, a friend who often stayed with them. Like Bonnet, Hofker and his wife were not immediately imprisoned by the Japanese after their invasion of Bali. When the war started going badly, however, they were all sent to concentration camps in Sulawesi. There Willem almost starved to death before liberation and over a hundred of his paintings were lost when the Americans bombed a Japanese war base next to Maria's camp. Upon release he had the choice of involuntary induction into the Dutch colonial army or to return to Holland. A pacifist, he chose the latter never to return to Bali again. One of the most highly regarded painters in Indonesia, one can see his work in a special room dedicated to him in the Museum Neka and in Agung Rai's Museum.
1938-Emiho Ambron:
Italian painter of note and student of Ciancomo Balla, the well known Italian modernist. Ambron came to Bali after seeing Krauser's photo book and an exhibition of Balinese art in Paris. There he rented a house from a gay Dutch Sunday painter, Gokinga, in Kedaton, just outside Denpasar. Gokinga, also, rented a house to the Hofkers at the time. Ambron was good friends with Locatelli, another Italian, and LeMayeur. Oddly enough these two Italian painters were largely ignored by their other colleagues despite their obvious talent. One amusing tale tells of a run in between Ambron and Mrs. Hofker. They had met and were neighbors. Hofker, however, was rather shy and rarely talked to strangers. Ambron with typical Mediterranean flair set about painting, choosing as his model the famous dancer Ni Cawang. Mrs. Hofker came to him one day quite angry as Ni Cawang was a favorite model of Hofker and as Ambron was willing to pay more she was not showing up. It seemed that the marriage between Le Mayeur and Ni Pollak, made Ni Cawang's family aware that the unmarried Ambron might be a possible son in law - another point not to be overlooked. In the end Ambron solved the problem by arranging that she would model for both of them on an alternating basis. 1938-Auke Sonnega: Sonnega who worked as a textile designer in Batavia in 1935 first came to Bali before the Second World War. After the war settled in Ubud in Bonnet's old studio in Pun Kaleran and dedicated himself solely to painting. His style is fresh and unique, clearly influenced by his designer training and background. It is very influenced by Art Deco and often graphic, however, his larger canvases often transcend these limitations and can even be thought to have a mystical impact. He also made many portraits, usually of doe eyed young men (he was in the words of a long time Ubud expatriate euphemism- a member of the "club"). These are very stylized and use a brightpalate with strong outlining of his subjects. Sonnega, like Bonnet, stayed in Bali until 1957 when he was forced to leave by the Indonesian authorities in the era of Confrontation. Agung Rai has a significant collection of Sonne gas, though his best paintings are to be found in Jakarta in the hands of private collectors and the Duta Fine Arts Foundation.
1939- Romuldo Locatelli:
While virtually unknown in Bali now, the Italian artist Locatelli, was perhaps the most successful artist of his era to visit Bali and certainly the most expensive. Patronized by the rich and powerful in Italy, including the Pope and Mussolini, Locatelli was invited to the Dutch East Indies by no one less than the Governor General. In Bali, he and his wife moved into Cohn McPhee's house in Sayan. With a speech impediment, Locatelli, rarely spoke even though wherever he went, he was the guest of the highest echelons of society. He departed Bali to Manila, with Ambron, after being warned that their Italian citizenship would bring problems when Italy joined the Axis powers in Europe after the invasion of Holland. There he and his wife were invited to met with General MacArthur. They remained in the Philippines during the Japanese occupation. Many of his paintings of Bali were destroyed in the war. He mysteriously disappeared without a trace outside Manila, just before the American reconquest of the Philippines.
1941-Lee Man Fong:
Born in Canton, China, Lee Man Fong's family moved when he was young to Singapore, where he worked as a commercial artist until he got a job as a caricaturist for a Chinese newspaper in Batavia (Jakarta). At the same time he was teaching himself to paint. Later he received a grant to study art in the Netherlands. Upon returning to Indonesia his talent was quickly recognized by President Sukarno and became a trusted member of the inner court. He was charged with editing a large book documenting the Sukarno collection of paintings of which he was curator. The influence of this book in the development of Indonesian painting cannot be underestimated. Fong, often, made paintings of Balinese subjects. Some of these were clearly based on Willem Hofker's work. He also did a series of large paintings depicting various activities in Bali's daily life which are remarkable. Fong was a versatile painter skilled in both western oil painting technique and Chinese scroll painting style. After the fall of Sukarno, Fong retreated into private life until his death in 1988. 1952-Antonio Blanco: No list of expatriate painters in Bali would be complete without the name of Antonio Blanco, who settled here after independence. Married to a beautiful Balinese woman and father to several talented children, Blanco has successfully created a legend in his own time based on admirable talents, eccentric flair and a long term, successful PR campaign. A Philippine of Catalan descent, Blanco was born in Manila in 1927. Later he became an American citizen and attended the Fine Arts Academy in New York City. Blanco traveled the world, dressing outlandishly from Hawaii to Florida, before ending up in Bali (see the photos in his book). Picking up where Walter Spies and Le Mayeur left off, he decided that he would be the ultimate painter of Bali. Assuming the role of one of greatest artists of his era, he dazzled tourists with such dramatic statements as, "Life is Art and my Life is Art". If this was not enough, a beautiful bare breasted Balinese girl carrying an offering of flowers would often nonchalantly appear in the background to emphasize the drama of the moment. While identifying himself with Salvador Dali, another Catalan, Blanco's painting is much more indebted to such realists as Willem Hofker. Blanco continued where Hofker stopped, liberating the pigment with bolder strokes and sweeps of color. He also took Hofker's sensuality to a new often shocking level. His women are provocative and even daunting. While inviting on the first impression, they display a certain ambiguity which reflects on the orientation of the artist. For many the best part of Blanco's art is his acting ability, closely followed by his extraordinary frames, often more avant garde then the paintings they enclose. A favorite among the rich of Jakarta, Blanco rarely paints at this point -perhaps too busy receiving awards. A true cultural icon in Ubud- everyone should be sure to visit the immitable and unmatched master, Antonio Blanco.
1956-Arie Smit:
Arie Smit was a soldier in the Dutch Colonial Army before the war who knew a good thing when he saw it. Settling in Ubud, Bali in 1956 he is often acclaimed the father of the "Young Artists School", a rather dubious movement which had a promising beginning but ended up as one of the worst in Bali. Much to his credit and despite praise for his role, he detached himself from the Young Artists before they aged. By applying for Indonesian citizenship in 1951, Arie managed to avoid being expelled with his friends, Sonnega and Bonnet, in 1957. He regularly wrote to Bonnet, to keep him informed of developments, and to a certain extent assumed his role in Ubud after his departure. Today Smit works under the patronage of Pande Suteja Neka and has achieved great success with regular exhibitions in Jakarta and two books dedicated to his art. With a bright palate his landscapes often echo Cezanne. His portraits could be better compared to Gauguin or Theo Meier, whom he knew well. The best collection of his work is to be seen in the Museum Neka.
1967-Donald Friend:
Very few Australians figure in Bali's expatriate community in the pre-war period, long before the island became the Tijuana of Sydney. Donald Friend was a talented young artist when he was shipped off to Malaysia as an army artist during the war. There he produced some of the most powerful drawings of his career. In search of escape from post war Australia, he settled in Sri Lanka. His first visit Bali came in 1967 and he quickly became enamored of the still vibrant beauty of its living culture and the freedom he could exercise as an expatriate. The beginnings of the Batu Jimbar community in Sanur can be traced to Donald, Chris Carlisle and Wija Waworuntu. A controversial, passionate man, Friend created a universe within a universe in Bali. As collector he al5_amassed prodigious amounts of art, including a large collection of bronzes which are now in the National Museum in Sydney and a large Dong Son drum which ended up in the collection of Sammy Eilenberg in London. Virtually single handedly, he created and supported a village of antique dealers who soon began manufacturing for him and his circle. Numerous young creative Australian personalities including Michael White, Shane Sweeney and Van Wieringen owe a great debt to Friend whose antics and style liberated them from the constraints of Australia during the Eisenhower era. Friend's house was a hive of activity and the in place to be in the 1970's. His court can be considered the last held in the grand tradition of Spies. Its demise spelled the end of an era. Today considered one of Australia's most important artists, his work displays a strong, often agitated line, in his pen and ink drawings. His large oil canvases are usually much more decorative and frequently allegorical . They hearken back to early Italian Renaissance frescoes with strong earth pigment colors and liberal use of gold leaf. While it must be admitted that he captured the beauty of Bali it should be with a footnote that it was Donald Friend's private Bali. Donald led an increasingly eccentric gay lifestyle in the early 80's and alienated several close friends. Seriously ill he packed up and left the island in 1985 under unhappy circumstances only to die a tragic death in a squalid apartment in Bondai Junction in Sydney in 1990. Naturally this list is incomplete and will give rise to calls of injustice. Other painters and artists include Louise Koke, Frida Holleman, Hip Hamers, Han Snel, Czeslaw Mys,tkowski, Renato Christiano, Marius Bauer, Hendrik Paulides, Charles Sayers, H.A.L. Wichers, Ian Fairweather, Gabriele Ferrand, Baron von Plessum, Dickhoff, Nikerk, Poortenaar, Weyzig and countless others who have visited, lived and worked in Bali. Above: Gabdelle Ferrand, a eady French woman painter who visited Ball in the 1920's. Courtesy of Duta Fine Arts Foundation. Perhaps one of the most notable realizations one makes when exploring this subject, is the distinct tendency of the individual artists and their friends to ignore others. In reality there was a tremendous amount of interaction, not only between artists on the island but also with the international scene. This was not always pleasant for rivalry, intrigue and jealously was rife among the Painters of Paradise, when staking their exclusiveclaims to their Muse. For those interested in a more complete list please see- the Lexicon of Foreign Artists who Visualized Indonesia : 1600 - 1950 by Haks and Mans, Archipelago Press, Singapore 1995 - just hot off the press. A major source of information for this work and expert on this subject is Mr. Didier Hamel of Duta Fine Arts Foundation. As Duta's Director and Founder (1986 with Basuki Wihowo, a Javan resident of Jakarta) one of his most important aims has been the collecting and documentation of historical paintings. Duta certainly has the broadest collection in Indonesia. Other important collections are to be found in Museum Neka and ARMA (The Agung Rai Museum of Art). Bruce Carpenter, is a regular contributor to the Bali Echo, and author of the book, Willem Hofker, Painter of Bali, Pictures Publishers, Wijk en Aalburg (1993). He is currently working on a' book about W.O.J, Nieuwenkamp.